Smiles are unique and individual for each person but some features can make a smile even more beautiful! Studies have been done to look at the most important aspects of an aesthetically pleasing smile. These studies reveal some interesting features that make people perceive a smile as beautiful. Your orthodontist is an expert at dental aesthetics. They not only think about straightening teeth but always have your smile design in their head when planning your orthodontic tooth movement. 
Healthy Teeth and Gums
Healthy teeth and gums are the foundations of a beautiful smile. Teeth should be naturally white in colour. Decayed teeth can appear as yellow or brown discolouration. Decay can show up as yellow or brown discolouration. Healthy gums should be pink in colour and firm. Red, puffy gums are signs of gum inflammation or periodontal disease. The best way to keep your teeth and gums healthy and beautiful are:
Good toothbrushing for 2 minutes twice a day
Use a toothpaste with Fluoride (1450ppm F)
Limit your intake of sugary foods and drinks
Visit your dentist regularly for dental health check ups.
Tooth Size and Proportion
Tooth size and proportions are very important in smile aesthetics. The front teeth or  incisors should be slightly longer then they are wide, with a height width ratio between 75-85%.

Your teeth should be in line or straight with proper proportions. It follows the rule of thirds. The central incisor should be 1.6 times the size of the lateral, while the canine (visible in the smile) should be 0.6 times the width of the lateral incisor.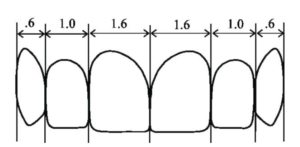 Tooth Visibility and Position
It is important to show a certain amount of your teeth at rest and when smiling. Ideally, your smile should reveal most of your teeth and form a gentle arc, sweeping back into the "buccal corridor," the dark space between your teeth and the corners of your mouth. A little dark space is important to create contrast and make your teeth seem whiter. In profile (or from the side), your central incisors should be parallel to your facial surface. This ensures you show the correct amount of incisor when smiling.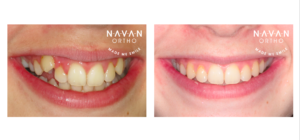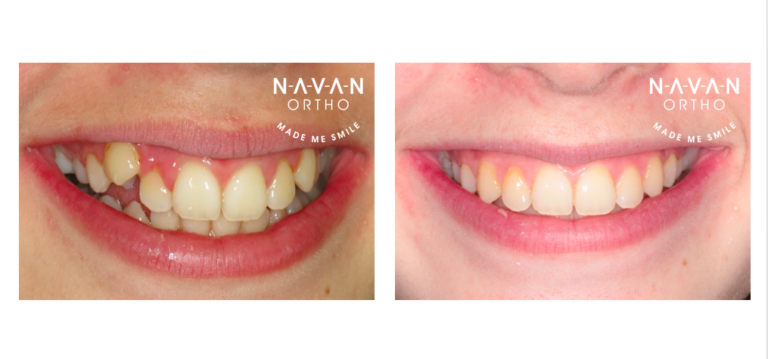 Gum Display and Gum Heights
The amount of gum that is shown has a dramatic effect on how a smile is perceived. When your orthodontist plans for your smile, they will aim to position the incisor in the best height for your smile within your gums and supporting bony structure. If tooth structure has been lost due to wear and tear, depending on how much gum you show on smiling, your orthodontist will position your teeth within your smile to improve gum symmetry too.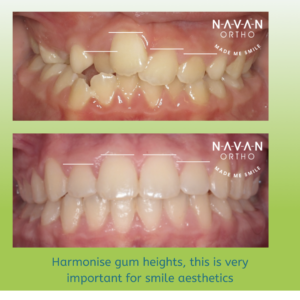 Tooth Position
Another key factor in smile attractiveness is the position of the teeth. Research reveals that people with straight, balanced teeth are viewed more positively than those with crooked teeth. It is important that the centre of your top teeth matches the centre of you face and your orthodontist will plan for this from the start.
Orthodontists are experts at looking at teeth and smiles. Your smile aesthetics will be a top priority when they are planning your tooth movement plan.
Thinking of Braces to Improve Your Smile Aesthetics? Trust Your Smile to a Specialist Orthodontist
The most important factor in getting your smile right is getting someone who knows what they are looking for and how to achieve it. The skill and experience of the operator controlling the braces is the key factors and not the type of brace itself. Orthodontists are experts at smiles and all brace types. They spend years perfecting their skills on how to move teeth correctly and safely into their best position for your bite and your smile. Orthodontists can direct you on how best to restore worn teeth also and can work together with your dentist or dental specialist to achieve this. 
Trust your smile to a specialist orthodontist. Dr Christine and Dr Sinead are both specialist orthodontists. To learn more about them, click here https://navanorthodontics.ie/meet-the-orthodontic-team/
Specialist orthodontists are dentists who have done a further 3 years full time training in orthodontics and are registered as specialists with the Irish Dental Council. To check if the person doing your braces is a specialist, click here : http://www.dentalcouncil.ie/registers.php
The American Association of Orthodontics support seeing a specialist orthodontist for your orthodontic treatment for children and adult braces  https://www.aaoinfo.org/blogs/is-my-dentist-also-an-orthodontist/