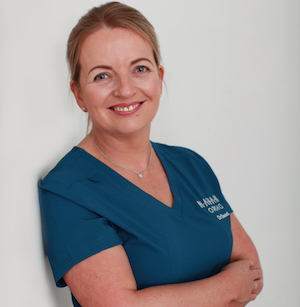 Dr Sinead O'Hanrahan - Specialist Orthodontist
Dr Sinead O'Hanrahan is a Specialist Orthodontist registered with the Irish Dental Council (2DS06) and set up Navan Orthodontics in 2006. Sinead completed her dentistry and orthodontic training at Trinity College Dublin. She has vast experience treating patients with all kinds of orthodontic problems in both public and private practice. she continues to work for the HSE. She is the current Irish representative for the European Federation of Orthodontic Specialist Association and is past-president of the Orthodontic Society of Ireland. When Sinead is not in the practice or busy with two children and she loves swimming and walking her dog.

Check the Irish Dental Council specialist register to make sure your orthodontist is a registered orthodontist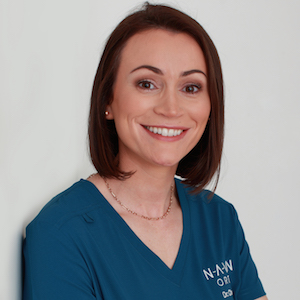 Dr Christine Smith - Specialist Orthodontist
Dr Christine is a specialist orthodontist and now owner of Navan Orthodontics. Dr Christine loves her job and is always amazed at the difference a smile can make to people's lives.
Dr Christine is originally from Navan. She completed her 5 year Dentistry degree at Cardiff University 2007 and study went on to a 3 year full time Masters in Orthodontics at King's College London in 2012. She completed her specialist orthodontic exams through the Royal College of Surgeons of Edinburgh in 2015. Dr Christine is a registered specialist orthodontist with the Irish Dental Council (6DS17). Dr Christine is a specialist in treating patients of all ages with orthodontic braces from younger children to teenagers to adults. She offers a wide range of braces including fixed braces, removable braces, aesthetic braces, Invisalign and implant supported braces. She can taylor a plan to suit all levels of complexity of cases, your lifestyle and budget.
Dr Christine sits on the council for the Orthodontic Society of Ireland. She is an active member of the Irish Dental Association, British Orthodontic Society, American Association of Orthodontist and World Federation of Orthodontists. Her research has been published internationally in dental and orthodontic journals and she has presented at various national and international conferences.


Check the Irish Dental Council specialist register to make sure your orthodontist is a registered orthodontist Dr Jessica is a specialist orthodontist and joined the team at Navan Orthodontics in 2021. Believe it or not, Dr Jessica did her orthodontic training with Dr Christine in King's College London where they became good friends. Dr Jessica did her dental training at Bristol University and completed her specialist orthodontic training exams through the Royal College of Surgeons of Edinburgh in 2017. Dr Jessica is on the orthodontic specialist register in Ireland and the UK. She moved to Ireland in 2021 with her husband, 2 children and dog, Alfie. Dr Jessica is a very talented orthodontist. She is kind and loves treating children and adults alike. She is a keen interest in fixed braces and invisalign.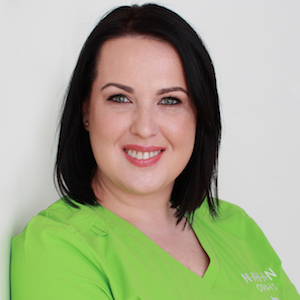 Ilma - Orthodontic Nurse
Ilma is a fully qualified Dental Nurse and has been working with us since 2015. We were quick to see Ilma's potential so arranged for her to complete her Diploma in Dental Nursing through Dublin Dental University Hospital and Trinity College Dublin. She did not disappoint and qualified with Distinction in 2017. Ilma has a great personality and keeps us all laughing throughout the day. She has a strong character, she is quick to learn and has patient care primarily at heart.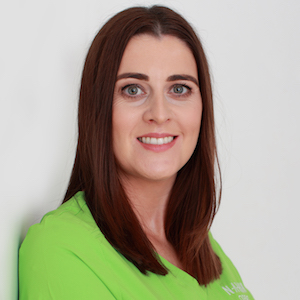 Anne-Marie - Orthodontic Nurse
Anne-Marie has been working as a fully qualified Dental Nurse since 2002. She joined our team at Navan Orthodontics in 2018 and works as an orthodontic nurse and on reception. She has a wealth of dental experience in dealing with patients and in the everyday running of an orthodontic practice. She loves her job and seeing our patients grow in confidence with their new smile. Anne-Marie is from Trim. She is a mother of three beautiful children and has great experience in putting patients and parents at ease.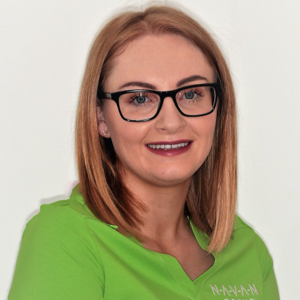 Kelly - Receptionist and Orthodontic Nurse
Kelly is our Receptionist and fully qualified Dental Nurse! This means she knows all things about the runnings of the practice and is able to answer your questions about anything to do with orthodontics too! Kelly qualified as a dental nurse in 2017 from Marino College, Dublin and joined us in 2020. She loves every aspect of working in dentistry especially putting people at ease and making sure that they have the best experience possible. Kelly feels that having a strong team ethic is extremely important in delivering as high a possible standard of care to our patients. She really enjoys seeing the difference that orthodontics can make to people's lives and self – confidence.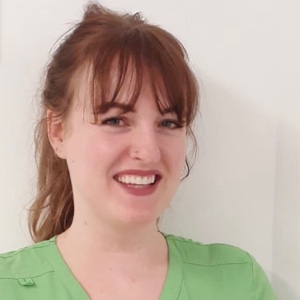 Nicola Durkan - Dental Nurse
Nicola is a fully qualified dental nurse from Trim who has rejoined our team after spending 3 years working as an orthodontist therapist in New Zealand. We are delighted to have her back 🙂 Her new skills make her a great asset to the practice. She is always there to help, she has a huge knowledge of all things to do with braces and can answer all patient queries.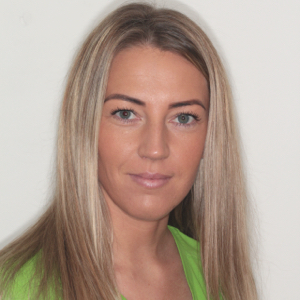 Rimante -Trainee Orthodontic Nurse
Rimante is the newest member of our team and we couldn't be without her now. Rimante is bubbly, honest, hard working and super efficient. We immediately saw her potential and toke her on as a trainee orthodontic nurse where she is flourishing in her role since. We hope to help Rimante to complete her Diploma in Dental Nursing next year and that she will continue to thrive at Navan Orthodontics. Aisling Cavanagh - Dental Nurse
Aisling joined out team in 2021 and became an immediate member of our growing family. Aisling has 20 years experience working in a specialist orthodontic practice in Dublin so she hit the ground running when she arrived in Navan. Aisling is kind, gentle and has a very reassuring manner with patients.